News Archives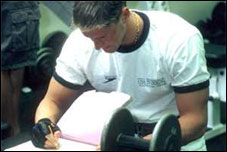 27 September 1999
Go to USA SWIMMING and click on the link to be in the chance to get your question answered by Lenny himself and maybe even talk to him!
19 September 1999
Awarded Swimmer of the year by USA Swimming, and voted by the USA Swimming House of Delegates after a weeks holiday in Mexico.
19 October 1999
FINA World Cup tour on Nov. 17-18 in College Park, Md. This is held in a 25m pool. (shortcourse)
Results of the 100m backstroke final:
1 KRAYZELBURG, LENNY, USA-Trojan Swim Club 51.82& - splits:24.90, 51.82.
Results of the 50m backstroke final:
1 WALKER, NEIL, USA-TEXAS AQUATICS 24.12 (WR)
2 KRAYZELBURG, LENNY, USA-Trojan Swim Club 24.28. (The first time Lenny's been beaten since January)
Results of the 200m backstroke final:
1 KRAYZELBURG, LENNY, USA-Trojan Swim Club 1:52.47 - splits: 26.49, 55.30, 1:23.86, 1:52.47
8 December 1999
US OPEN MEET RESULTS (longcourse):
Stroke Distance P/F Time Place Date Splits
Back 100 F 54.62L 1 1999-12-02. 26.49, 54.62
Back 100 P 56.29L 1 1999-12-02. 27.46, 56.29
Back 200 F 1:57.74L 1 1999-12-02. 27.71, 57.38, 1:27.31, 1:57.74
Back 200 P 2:01.01L 1 1999-12-02. 28.11, 58.64, 1:29.54, 2:01.01
Free 50 DQ - 1999-12-02
Free 100 P 52.78L - -12-02. 25.09, 2 52.78
14 January 2000
FINA World Cup tour on Jan 13-14 at Hobart, Australia. (shortcourse)
In the 100m bs, Lenny was leading most of the way, concentrating on Australian, Josh Watson in the lane next to him. But out in Lane 2, Matt Welsh, also Australian, edged him out of 1st place. Lenny came 2nd with a time of 52.85, bettering his heat time of 53.41.
Results of the 100m backstroke final:
1 WELSH, MATT, AUS 52.67 Lane 2
2 KRAYZELBURG, LENNY, USA 52.85 Lane 5
3 WATSON, JOSH, AUS 53.31 Lane 4
11 February 2000
The World Cup is almost at an end, with the 2nd last leg about to commence in Paris, France. Lenny broke 2 more shortcourse world records at Berlin, Germany (Feb 5-6).
I apologise for the messiness and disarray of this section! The results aren't in any particular layout! I'll fix that up oneday...
18 March 2000


Athens, Greece- World Short course Championships (25m)-
Lenny models new Speedo Fastskin swim suit

Lenny's first event was the 50m backstroke. Qualifying 2nd fastest for the finals, he was in Lane 5. Results of the 50m backstroke final:
1 WALKER, NEIL, US 23.99 (WR holder 23.42, set earlier in the meet)
2 KRAYZELBURG, LENNY, US 24.44
3 FALCON, RODOLFO, CUB 24.32
During this event, Lenny sustained a laceration to the middle toe on his left foot, believed to be acquired during a turn. The injury required 6 stitches. Lenny competed in the 200m heats, qualifying 2nd fastest, but pulled out because he wasn't performing to his highest level. "I came here to swim fast, but if I canít swim at 100 percent because of the injury, then Iím not going to swim" said Krayzelburg.
Lenny is still contemplating whether or not to swim in the 100m backstroke and in the 4X100m medley relay. Meanwhile, fellow American, Neil Walker just keeps on winning gold and breaking those records!
Earlier this month, Lenny was named March USOC (United States Olympic Committee) athlete of the month
"Krayzelburg won the 100m and 200m backstroke categories and finished second in the 50m backstroke in the FINA World Cup Series. He broke world records twice in February in the 100m and 200m backstrokes." USOC

20 March 2000
Lenny's 100m backstroke shortcourse world record was broken by Neil Walker when he touched the wall with a time of 50.75 in Athens yesterday. This is his 5th WR of the meet. Lenny did not compete in the race.

9 September 2000
The Opening Ceremony for the Olympic games are only 6 days away, with competition beginning on the following day. Currently, the US swim team is training in Sydney, until they relocate to Olympic Village, where all Olympic athletes will stay during the 16 day event.

Lenny will be competing in 3 events:
3 October 2000
Olympic Lenny news
Congratulations Lenny on 3 Gold medals!

10 November 2000
Since the Olympic games, Lenny has had a busy schedule. His three gold medals in the 100m backstroke, 200m backstroke and 4x100m medley relay has paved the way for celebrity status in the US. Lenny has dedicated a gold medal to each of his parents, the third for himself.

Some of Lenny's appearances include being a judge at the Miss America pageant, appearing on Celebrity who wants to be a millionaire?, David Letterman, and Hollywood Squares. On Who wants to be a millionaire, Lenny won $32,000 half of which he donated to the Cystic Fibrosis charity.

Lenny's 200m backstroke shortcourse world record was broken by Australian, Matt Welsh at the Australian shortcourse championships. The time to beat now is 1.51.62

Currently, Lenny is taking time off, cruisng about, and is not expected to compete in the upcoming FINA world cup series. Rumoured though, that Lenny will return to Australia for the Goodwill Games to be held in Brisbane.

17 December 2000
"I have never been to Israel and I really would like to go there and compete in the Maccabiah Games next year," said Lenny when questioned whether he will be attending the World Championships in Fukuoka, Japan. Full story from Yahoo-Associated Press.

15 Janaury 2001

Lenny has announced that he will skip the US Championships and World Championships to compete in smaller meets throughout Europe (Israel, France, Spain, Italy, Monaco.

Full story

from USA TODAY.
Lenny also appeared on The Disney Channel's 'The Jersey' last Friday. Hope you got to see it!

16 March 2001
Lenny was nominated for ESPN's Espy award in the catergory of Males US Olympic Athlete of the Year (Feb 12 3001). Other nominees included Mauric Green (athletics), Michael Johnson (Athletics) & winner Rulon Gardner (greco roman wrestling).

Did you catch the online chat held with Lenny on 6 March? Lenny participated in the webchat as part of International Sport's celebration of National Sportsmanship Day.

16 July 2001
On July 31, Lenny will undergo arthroscopic surgery. It will be on his left shoulder, where there is a tear. The rehabilation is expected to take 8-12 weeks. Before surgery though, Lenny still plans to swim at the Maccabiah Games to be held in Israel this month.